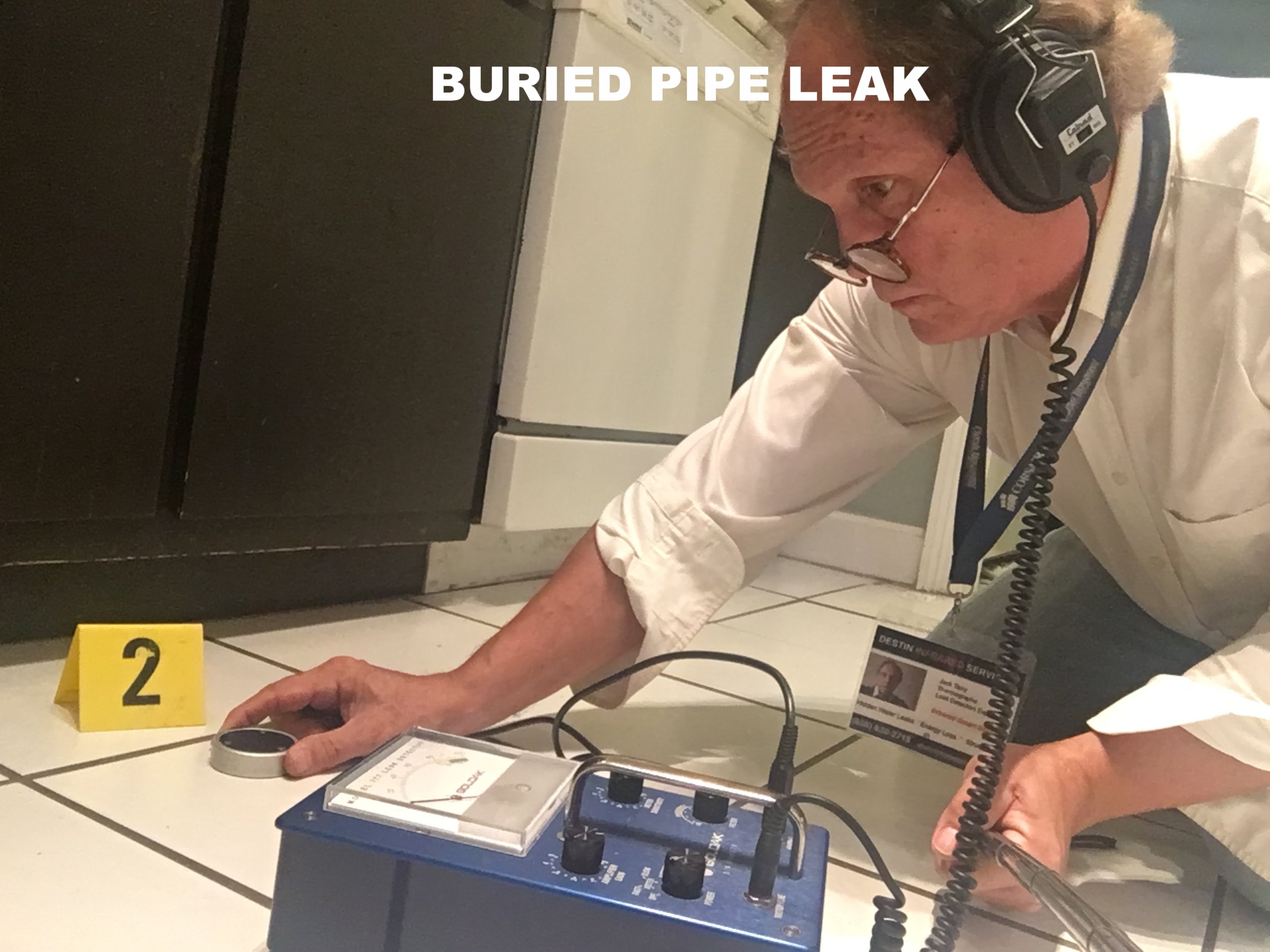 DESTIN LEAK DETECTION SERVICE
5 Things You should know
FACT: Leaks in Destin, Florida for homes or businesses are plentiful. Some pipe leaks are due to plumbing leaks under your 'slab' floor (foundation) that age and get 'pinhole' leaks in copper pipelines.
FACT: Other water leaks are are due to water intrusion - which is not plumbing related at all. Combine the 63" of annual with strong winds and a Hurricane Season - and you have a recipe for water leaking into your home creating water damage, favorable conditions for termites, and mold.
FACT: Maybe you feel that you have a plumbing leak due to a high water bill. It could be due to a pipe leak in a wall. But, it is visible to the eye. Some contractors still cut holes in your sheetrock to go exploring as part of their plumbing leak detection. How primitive! A real leak detection company in Destin uses non-contact, non-invasive leak detectors to locate your broken pipe and assess the water damage incurred.
FACT: Let's say you have a roof leak. Don't be fooled by a handyman or roofer equipped with a garden hose and a caulk gun to 'fix' your roof leak. Tar and caulk is a Band-Aid. Roof leak detection means isolating, Identifying and pinpointing a leak cause . It requires expertise, experience and very expensive leak detection equipment that he has not invested in.
FACT: So, if you are looking for a real Leak Detection In Destin Florida, our trained experts bring over $30,000 in cutting-edge leak detection equipment to your door. Such As:
1) INFRARED CAMERA FOR SMART SCANS (to find hidden leaks)
2) ACOUSTIC LEAK DETECTION (for buried, broken pipes)
3) HYDROMETERS (measure extent of any water damage)
4) SPRAY-RACKS (actually test & PROVE water entry point)
5) WE GIVE YOU HARD-COPY EVIDENCE (not hunches)